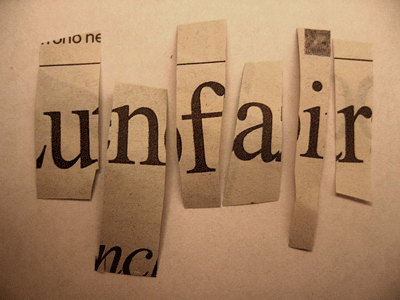 There was a man who owned a vineyard and needed workers to help him. So one day he went out and hired a few men to work for him. He told them what he would pay them for a day's work and they agreed. A few hours later, he hired more workers. Realizing he still needed more help, he continued hiring more workers right until the end of the day. After the day's work was completed, each worker received their paycheck.
However, each worker received the exact same amount. Those who worked the longest felt like they deserved more, even though they received the same amount upon which they agreed at the beginning of the day. The owner of the vineyard reminded these workers that he wasn't giving them any less than what he told them he would give them.
The only reason that they felt "cheated" was because the other workers received the same amount and hadn't worked as long or hard as they had. The land owner reminded the workers that it was right for him to do what he wanted to do with his own things. It was his money to give and he had not cheated anyone out of anything.
This story can be found in Matthew 20:1-16. God has done things and still does things that sometimes seem "unfair." Yet, there is one thing that God did that was the most unfair thing of all. He created mankind and saw our sinfulness. Because of His inherent love, God desired a relationship with us (1 Jn. 4:8). This isn't the unfair part. The unfair part is what He did next. He sent Jesus to this earth to dwell and die among us (Jn. 1:14). Jesus took away the sin of the world (Jn. 1:29). The Creator died for His own creation to save His creation. Innocent of sin, Jesus died for the sins of the world (Heb. 4:15). He:
"bore our sins in His own body on the tree, that we, having died to sin, might live for righteousness…" (1 Pet. 2:24).
Jesus took the curse that belonged to us (Gal. 3:10-14).
"For He made Him who knew no sin to be sin for us, that we might become the righteousness of God in Him" (2 Cor. 5:21).
This isn't fair. It isn't fair for the Creator of this universe to die for His own creation for something they did (Rom. 5:6-11). It isn't fair for someone to take the consequence of a curse that wasn't their curse. Yet, this is what God did for us when He sent Jesus to die on the cross for our sins. God was acting in the most unfair way He possibly could because fairness demanded that we all die and be destroyed for eternity (Rom. 6:23). That would have been fair. God wasn't fair. And thank God (literally) He wasn't fair!
God's unfairness has a name. The name of God's unfairness is grace (Eph. 2:8-9). Grace is in direct contradiction to law.
"For the law was given through Moses, but grace and truth came through Jesus Christ" (Jn. 1:17).
Being judged by the law, we all lose (Rom. 3:20). Being judged through grace, we can be justified if we have faith in Jesus (Rom. 5:1; Jn. 17:3). As you go through your Christian life demanding God's "fairness," remember, it was God's "unfairness" that saved you.
– Kevin Pendergrass
For any questions or to be added to the newsletter list, please send an e-mail to kevin@kevinpendergrass.com.